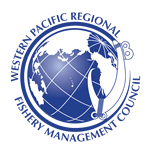 Western Pacific Regional Fishery
Management Council
Annual Reports
---
The Annual Stock Assessment and Fishery Evaluation (SAFE) Reports are a collaborative effort primarily between the Western Pacific Regional Fishery Management Council, NMFS Pacific Island Fisheries Science Center, NMFS Pacific Islands Regional Office, as well as the Division of Aquatic Resources (Hawaii), the Department of Marine and Wildlife Resources (American Samoa), the Division of Aquatic and Wildlife Resources (Guam), and the Division of Fish and Wildlife (Commonwealth of the Northern Mariana Islands).
Archipelagic SAFE Reports
The Archipelagic Annual SAFE Reports monitor the performance of insular fisheries and ecosystems of the Western Pacific region to assess the effectiveness of the Fishery Ecosystem Plans in meeting their management objectives.
Pelagic SAFE Report
Following the Pelagic Fishery Ecosystem Plan requirements, the Pelagic Annual SAFE Report assists the Council and NMFS in assessing the status of the stocks, fisheries, and effectiveness of the management regime for pelagic species.